Pickleball Courts Near You: Best Community Resources
Identify Local Courts Wherever You Are
TUNDRA NEWS
August 15 2023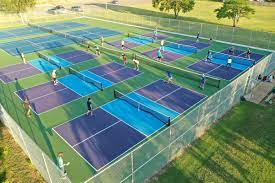 You don't need to read the latest headlines to know pickleball is on the rise across the nation. Visit any community rec center, neighborhood park, or university sports facility and you'll likely spot those curious courts that look like a tennis court that hasn't fully matured.
According to pickleball analysts (yes, there are such people), in 2022, the global pickleball market was worth well over 1.3 billion dollars. The industry is expected to reach a valuation of over 2.3 billion in the next 5 years.
Who knew two lightweight paddles, and a hollowed out swiss cheese plastic ball could have so much disruption in the sports industry. With this surge in demand comes the next obvious question: where can I play pickleball and how can I set up my next match?
Today, we're going over how to find a pickleball court and sign up for a match either for free or dirt cheap. While the demand for pickleball continues to climb, the cost of playing the game doesn't have to. Read on and find those hidden pickleball courts near you.
Start With Your Local Community or Rec Center
Pickleball continues to be one of the fastest growing sports in the nation, boasting over 36 million Americans joining in on the action. With this undeniable growth, community centers have taken notice and many recreational centers in communities just like yours offer some sort of pickleball club, league, or open play court.
Ask your local community or rec Center about available pickleball clubs, organizations, or affiliations they may have. They can point you in the right direction of signing up for a match and making it a regular part of your routine.
If your local rec center doesn't have any pickleball activities available, and you're feeling up for it, it might be worth your while to ask them If you can advertise a pop up match. While a rec center might not give you the court to play, if you can advertise a date and time for a pop-up game, you'll be able to tap into existing interest in your local community.
Join Your local Facebook Pickleball Community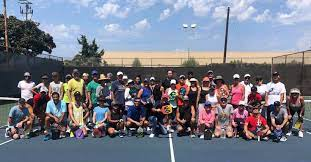 If there's a Facebook group dedicated to people who bond over sneezing, you can be sure that there's a Facebook group about pickleball matches in your local community. Often, these pickleball Facebook groups are put together by locals who have a sheer joy and love for the game.
These online communities are not typically affiliated with any group or organization, but are more often than not structured just as well as any organization out there. Browse these local community groups and join in on the action. Get to know the group members, learn about when and where they schedule matches, and see how you can join.
This can even be a great way to get to know community members who have a private pickleball court (or access to one). The best part? These types of local organizations don't require any membership fees and are simply a fun way community members organize pickleball matches amongst themselves.
Check In With Your Local University
If you live near a university or community college, chances are there's a pickleball group already established and all you have to do is search up student pickleball courts near me.
While there might be restrictions on joining a team, you may be able to find volunteer opportunities or guest sign ups that allow you to join in on matches. Some universities or community colleges may even let you utilize the court space via a single time (paid) pass, alumni membership, or if you know a student who attends the school.
If you are really serious about getting regular games in, you might want to consider joining in as a coach or assistant coach. Perhaps the only thing better than playing pickleball is getting paid to do so by joining in as an official pickleball instructor.
Check Out the Official USA Pickleball Places 2 Play (P2P) Database
The official USA pickleball organization is composed of USAP ambassadors and thousands of members across the Nation that regularly update the Places 2 Play (P2P) database.
This database allows you to search your local community for available pickleball courts and matches. If you don't see an available match in your local area, try searching neighboring communities and other popular towns and cities nearby. The Places 2 Play database is updated on a daily basis with new entries constantly being added.
In addition to helping you locate nearby pickleball courts and matches, the database gives you additional insight to help you narrow down what you're looking for. Helpful information includes
● The contact information of your local USA pickleball Places 2 Play contact person. This person might either be a staff member or a player that can answer additional questions about your local pickleball courts.
● The number of players that typically come to the location for pickleball matches. This allows you to have an indication of whether the pickleball court is busy or not.
● Additional details are provided including whether there are fees or public/private restrictions associated with the pickleball court, options to reserve pickleball courts near me, narrowing down pickleball courts with lights near me, and other options.
Tap Into the Power of PicklePlay
Find public pickleball courts near me by using the popular app, PicklePlay. This app is a convenient and free pickleball directory that allows you to find a court and schedule a game. Get info on clubs and upcoming events, and connect with other pickleball players in your community.
The app simplifies the way in which you can set up a game by allowing you to talk to players, organize matches, and naturally immerse yourself into the world of pickleball. PicklePlay is available both online or for download in the Apple Store and Google Play Store.
Use Meetup to Connect with Other Pickleball Enthusiasts
The social media platform Meetup makes it easy for individuals to connect with like-minded people that enjoy similar activities and hobbies. The app is available for download on both Android and iPhone smartphones and allows you to organize meetups by hobby, location, and other options. Once downloaded, you search up other individuals who are interested in setting up a pickleball game or advertise a meetup of your own. If you are searching for free pickleball courts near me, you may be surprised at the number of users who have access to private pickleball courts. If you can find a private court, you'll likely get more info on parks with pickleball courts near me.
Visit Your Local Private Sports Clubs and Gyms
If you are looking for indoor pickleball courts near me, you may want to visit your local gym or sports club. The demand for pickleball has not gone unnoticed for private sports clubs and gyms, causing a rise in the number of pickleball courts that are popping up in these facilities. You don't necessarily have to be a member of these facilities either in order to sign up for a match.
Many locations offer guest passes if you want to sign up to test out the court or sample the facility. If you're really committed to the sport and want to play routinely, the same facilities will offer either open playing times for members, or organized sessions for individuals who want to sign up for a season. Pickleball tournaments are increasing in popularity and many of these tournaments are hosted at private sport clubs and gym facilities.
Some players might be dissuaded by the fact that you'll likely have to pay a membership in order to play in these facilities. However, membership fees ensure that you're playing on a high quality court, and players that will likely be present for every matchup.
The best part about finding a match with this route is that you'll be connected to other like-minded pickleball players who are just as interested in the sport as you are. Build those connections with other pickleball players and take your matches outside of the sports facility for continuous play.
Outdoor Pickleball Courts Near Me at the local YMCA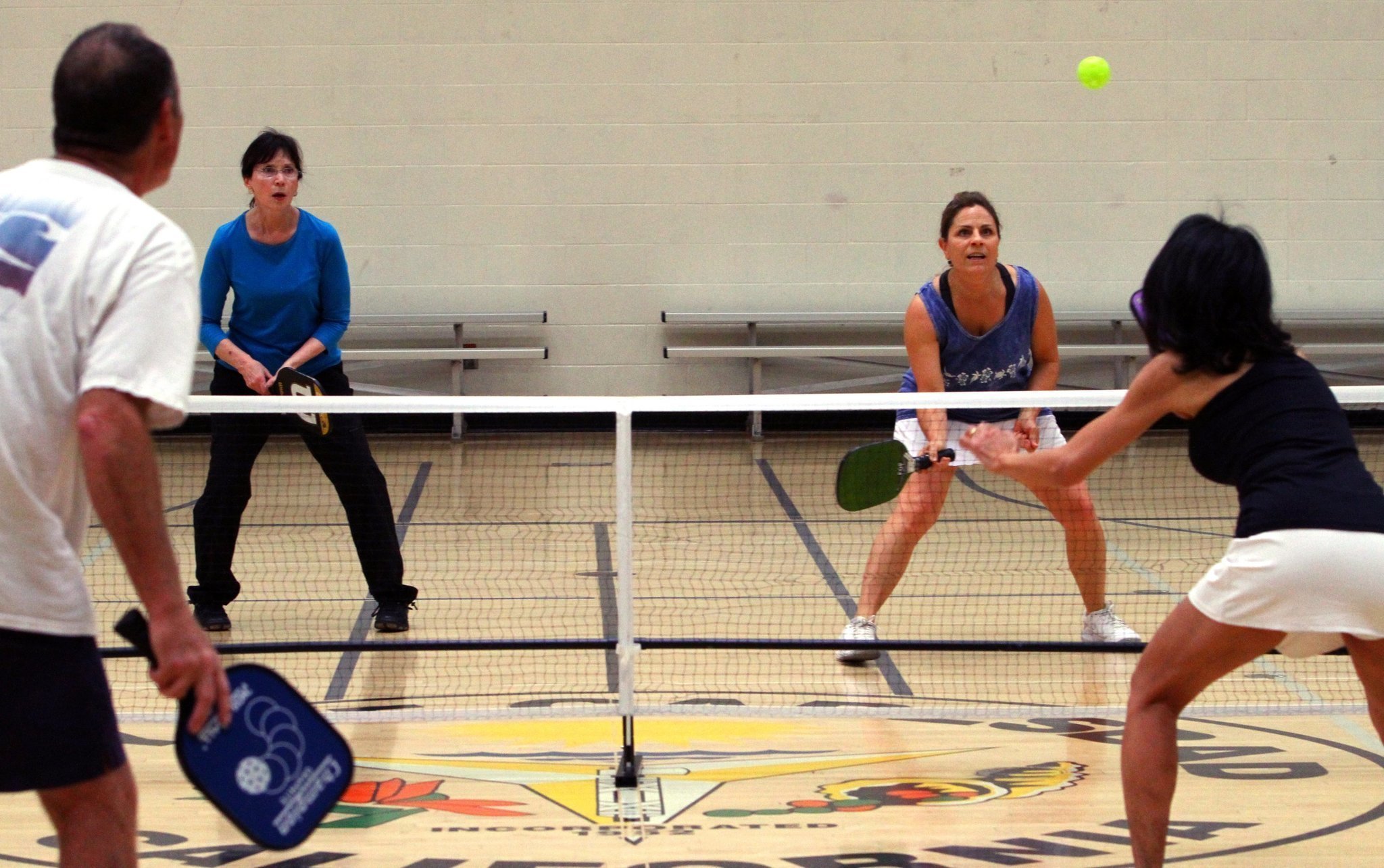 Aside from your local community's recreational center, if you live in a big city, chances are there are community groups including YMCA's that can help you organize a match. This is a great option for younger pickleball players too because the audience tends to be school age children including older teens.
Plus, tapping into these local resources is a great way to connect with your community and help build on the pickleball programs that are already there. The more turnout there is for the game, the more likely a community will allocate funds for continued growth.
Visit Your Local Church or Religious Organization
Get your preach on and your play on by visiting your local church or religious organization for pickleball inquiries. These organizations are a pillar of any community and will more often than not allow you to use their facilities for free, especially if you are connected to the facility or are organizing a community event.
If you're wondering "But my local church doesn't have a pickleball court!" No worries. You'll find plenty of pop up pickleball kits that can be set up in minutes. Some of these kits will come included with boundary tape you can lay out, or you can DIY the boundaries yourself and make them as permanent as you need to.
Your Next Pickleball Match Is Closer Than You Think
If you're new to pickleball, you don't have to dish out a lot of money to get started. What makes this sport one of the best is the reality that once you build a network of other pickleball players, it doesn't take much (or cost much) to get involved in the community. We hope this list has helped you narrow down some creative ways to locate pickleball courts and set up pickleball matches in your local community.